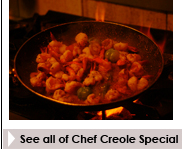 Chef's Delicious Recipes
Looking for something to spice up your seafood dishes... try some of Chef's sauces. The spice is right!

See more here....



- Party Weekend Live
Bujimix - 5 Lan - Tony Mix - 3 Jes
Mar 11th 6PM-12M @Chef Creole Performance Park
200 NW 54St Miami Fl 33137
- Party Weekend Live "Continues"
Zouk Sundays with Tony Mix
Mar 12, 12-5AM @Club Seven
6029 Miramar PKWY Miramar Fl 33023
View all here...