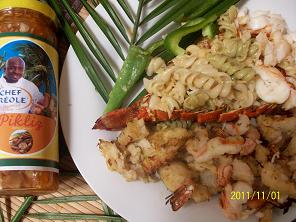 Seafood Pasta Recipe

• 8oz lobster tail
• 10 26/30 shrimp
• ½ pnd. Conch (tenderize)
• 5oz. chef creole marinade
• 5oz. water
• 1lb. pasta (tri-color rotini)
• 2oz. butterr
• 1cup chef creole tartar sauce
Put macaroni to boil for 6 to 8 min.
Lobster shrimp conch put in aluminum foil with 5oz. chef creole marinade, 5oz. water, 2oz. whipped butter. Put in grill for 8 to 10 min. with grill at 450 to 500 degree
Remove seafood from aluminum foil and place on grill surface for 3 minutes
The liquid juices that are left in the aluminum foil pour into the pasta after draining water from pasta then mix with 1 cup of chef creole tartar sauce.
Remove seafood from grill cut in small pieces to your desirable size then put in pasta bowl and mix.
If you desire more flavor put 2oz. of chef creole marinade at a time until your reach desirable taste.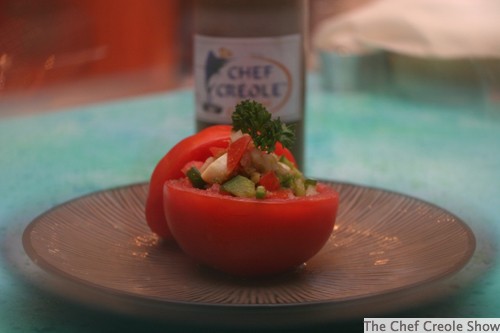 Conch Salad

• 1 TOMATOE
• ½ TOMATOE
• ½ GREEN PEPPER
• ¼ ONION
• 1/4PND. CONCH
• ½ LIME
• 2 OZ. CHEF CREOLE MARINADE

2 OZ. CHEF CREOLE MARINADE
DICE TOM, ONION,GREEN PEPPER, CONCH INTO SMALL PIECES
CUT TOP OF TOMATOE, SCOOP INNER CONTENT OF TOMATOE ,LEAVE HOLLOW TO PUT DICED CONCH,GREEN PEPPER, ONION, AND DICED TOMATOE.
PUT 2OZ CHEF CREOLE MARINADE SAUCE
SQUEEZE ½ LIME THEN MIX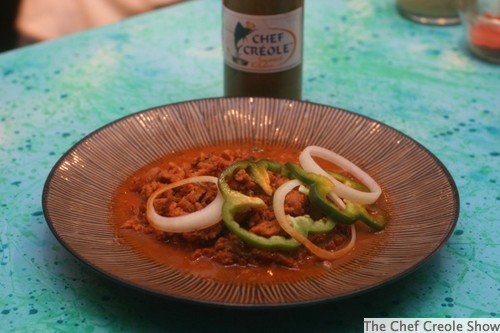 Legumes recipe

Recipe for legumes cook time: approx. 45 min.
First we start by gathering all the vegies of choice.
Rinse vegetables. (View outlines)...
Add 4oz of water to pot.
then add diced and cut vegetables:
• 1 chayote
• 2 carrots.
• 4 stems of thyme
• 4 stems of parsley
• 1/3 portion of cabbage
• 1 tomato
• 1 green pepper
• 1/2 of an onion
following the vegetables we add the following ingredients
• 4 heads of cloves
• 3 pepper corn
• 1/3 scotch bonique pepper
• 1 table spoon of seasalt
• 1 teaspoon of of cayenne
• 1 teaspoon of garlic powder
• 4 garlic cloves
this recipe calls for 8 oz. of Chef creole special marinade sauce set fire on Med/high
stir to a mix and leave cover on the pot for 35 min.
carefully remove cover, use a squashing instrument to mix soft steam veggies together
Allow ten minutes with open lid after bringing vegetables to a squash for proper water dissipation(without meat redy to be served as a vegetarian meal.

Preparing the meat for the legume( Beef Chunks)...approx. 18minutes to cook
First we collect our selection of beef chunks 1-2 pounds
rinse meat out then place in bowl
add 1/2 of sour orange (squeezed)
• 1/2 lime (squeezed)
• 4 oz cup of vinegar
• 4oz of water and let sit for 5 min.
• then rinse meat.
After acid bath place meat into designated pot adding our ingredients along
• 1 teaspoon of tomato paste
• 1/2 tomato
• 4 cloves
• 1 teaspoon of cayenne pepper
• 4 whole cloves of garlic chopped
• 1 teaspoon of seasalt
• 2 pepper corn
• 4oz of Chef special marinade sauce
• 4 oz of water
stir to a mix and let cook on med/high for 10 minutes with lid closed
carefully remove lid Stir firmly for 2 min.(blanch the ingredients)
Leave meat on med/high with the lid open for 5 minutes to allow the greater amout of liquid to dissipate( looking for a thick broth texture)
After meat is brought to a thick broth alredy cooked vegetables may be added
stir for 3 minutes for good mixture and let cook for an additional 5 minutes before serving...
Note: Make sure to rinse all items in a strainer
Please be sure to add water then vegetables in the cooking pot.
Chayote must be peeled with potato peeler and cut from top to bottom to cut out center seed.
Carrots must be cleaned with peeler, with both ends cut off.
Cabbage should be feathered
All vegetable items must be chopped into small pieces in order to desinagrate faster during boiling
• 28 oz. of water
• 2 whole clove(cut in small pieces)
• 1 teaspoon of Seasalt
• 1 quarter onion slice
• 1 half green pepper
• 3 stems of parsley
• 2 stems of thyme
Let water come to a boil
Once water starts to boil add 5 table spoon of Chef Creole special receipt
Rinse rice out prior to putting it in the pot, to remove excess salt
14 oz of rice.
Add rice the pot, stir then cover the lid.
The lid of the pot need to remain covered for 15 minutes.
Then remove cover water should be dissipated
Next we add 1 oz. of whipped butter
We add 1 pound of 41/50 shrimp.
Add 1 pound of catfish fillet,( or seafood of choice)
Let simmer for 15 minutes with lid back on...
approx. cooking time.30 minutes.




PAELLA RICE

• 4 OZ OLIVE OIL
• 2 CLOVES
• ¼ CUP CHOPPED ONIONS
• ¼ CUP GREEN PEPPER
• 2 TABLESPOONS SALT
• 1 CUBE MAGGIE BOUILLION (CHICKEN)
• 1 TEASPOONS CAYENNE PEPPER
*LET FRY IN PAN

• 1 CUP FROZEN GREEN PEAS
• ½ TEASPOON YELLOW RICE COLORING
• 4 CUPS OF WATER
• 4 STEMS OF TYME
• 4 STEMS PARSLEY
• 1 WHOLE SCHOCH BONNET PEPPER (DON'T NOT OPEN)br> • 2 CUPS PARBOILDED RICE
• BRING TO A BOIL, WHEN WATER EVAPORATES TURN STOVE TO LOW.
SAUTEE SEAFOOD IN SEPARATE POT.
• 2 OZ OLIVE OIL
• ½ RED PEPPER SLICED, ½ YELLOW PEPPER SLICED
• 4 OZ WHIPPED BUTTER
• 4 OZ CHEF CREOLE SPECIAL SAUCE
• 6 OZ WATER
• 12 MUSSELS
• 12 CLAMS
• 10 LARGE SHRIMPS
• ½ POUND SHAPPER FISH FILLET
• LET COOK FOR 2 MINUTES ,UPON COMPLEATING COMBINED SEAFOOD WITH STEAMED RICE.

jumbolaya rice

• 4 oz olive oil
• 2 cloves
• ¼ cup chopped onions
• ¼ cup green pepper
• 2 tablespoons salt
• 1 cube maggie bouillion (chicken)
• 1 teaspoons cayenne pepper
*let fry in pan

• 4 cups of water
• 2 cups of parboiled rice
• 4 stems of tyme
• 4 stems parsley
• 1 whole schoch bonnet pepper (don't not open)
• bring to a boil, when water evaporates turn stove to low.
sautee meats in separate pot.br> • 2 oz olive oil
• ½ red pepper sliced, ½ yellow pepper sliced
• 4 oz whipped butter
• 4 oz chef creole special sauce
• 1 lg ripe tomatoe cut
• 1 pound of boneless chicken cut up
• 1 pound hot italian sausage
• 1 pound mild italian sausage
• let fry for 5 minutes mixing as you go
• add 6 oz water
• add 2 oz tomatoe paste
• bring to a boil
• upon completing combined meats with steamed rice, let meats and rice steam for 5 minutes.