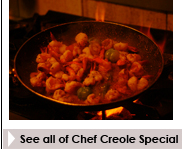 Chef's Delicious Recipes
Looking for something to spice up your seafood dishes... try some of Chef's sauces. The spice is right!

See more here....



- Look Who's Cooking
Cooking with Chef Creole!
Feb. 16 @6PM
@Macy's Aventura Home Store Culinary Kitchen, 3rd Floor - 200 NW 54 Street Miami

View all here...