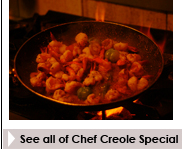 Chef's Delicious Recipes
Looking for something to spice up your seafood dishes... try some of Chef's sauces. The spice is right!

See more here....



- Food and Wine Festival
"Caribbean Lounge Tent"
Sunday, November 6TH
Seminole Hard Rock Hotel & Casino
1 Seminole Way Fort Lauderdale
- Shrimp Creole Wednesdays only $5.00
Wednesdays 6:PM to 8:PM
200 NW 54 Street
View all here...