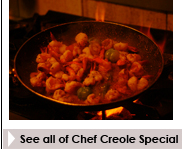 Chef's Delicious Recipes
Looking for something to spice up your seafood dishes... try some of Chef's sauces. The spice is right!

See more here....



- Art Basel Weekend
"Chef Creole & M.U.C.E. presents
NeverLand Urban Uproar"
Dec. 1st - 4th
@Chef Creole - 200 NW 54 Street Miami
42 Visual Artists Performances
- Fashion, awards, block party, bar, chef creole cuisine

View all here...